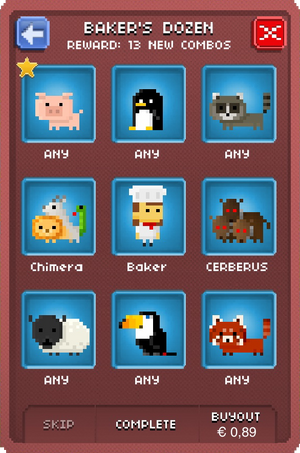 Baker's Dozen is a type of mission that has been added in the v1.53 update. This mission can be completed at the Utopia HQ and requires the following:
This mission can only be completed once.
Note: In order to complete this mission you NEED the Altar building. It occupies four spaces. You can easily obtain it by splicing a Mutant with a Jockey. The Mutant is a special gene that is unlocked once you have around 155 jobs spliced.
The 'Baker's Dozen' mission was named the way it was because:
The main job was a baker, to complete the mission.
You unlocked 13 new combos, which equals a baker's dozen.
If you add up all the number of heads in the mission (including the baker), it equals thirteen, which is a baker's dozen.
Once the mission is completed, the player is awarded 13 new Professions:
See also
Edit
Ad blocker interference detected!
Wikia is a free-to-use site that makes money from advertising. We have a modified experience for viewers using ad blockers

Wikia is not accessible if you've made further modifications. Remove the custom ad blocker rule(s) and the page will load as expected.