Bankai Berg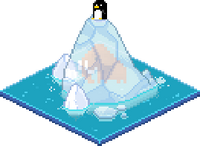 Bankai Berg is a type of Snowy or Icy Decor, added in the 1.70 update. This type of decor uses one plot of land and is unlocked after building the Toy Factory.
Notice there is a mammoth solidified within the ice. Mammoths are now an extinct species, so therefore the iceberg must be about over 4000 years old.
Ad blocker interference detected!
Wikia is a free-to-use site that makes money from advertising. We have a modified experience for viewers using ad blockers

Wikia is not accessible if you've made further modifications. Remove the custom ad blocker rule(s) and the page will load as expected.