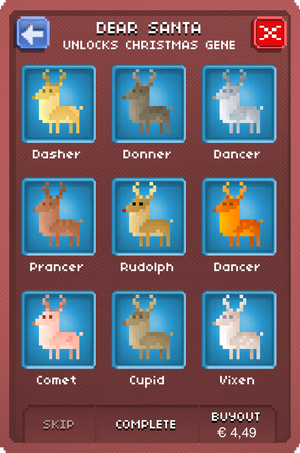 The Dear Santa mission is available from December 4 of 2013. After the 1.8 update, this mission can be unlocked at the Event Center by triggering the Winter event.
To complete the mission, you need all Santa's Reindeer. You can obtain them by spotting Santa when he's flying over your city, or by playing the Reindeer Games in one of your friend's cities.
The mission can be bought out at the cost of €4,49 or $4.99 and can only be completed once.
NOTE: If you want to collect more Reindeer (e.g. to complete more missions or to help your friends) after you completed the Dear Santa mission, you need to re-trigger the Winter event.
When you successfully complete this mission, the Winter will end and the player receives the Holiday Spirit.
Ad blocker interference detected!
Wikia is a free-to-use site that makes money from advertising. We have a modified experience for viewers using ad blockers

Wikia is not accessible if you've made further modifications. Remove the custom ad blocker rule(s) and the page will load as expected.