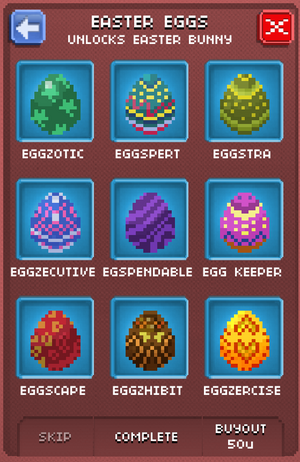 This mission is available from April 10th - April 30th of 2013. After this date, you can only get this mission by unlocking it first at the Event Center for 25u.
Hunt down 9 (nine) Easter Eggs hidden around Utopia before April 30th to unlock the new 'Bunny' gene.
All 9 Easter Eggs are listed below. Once all eggs are found, Complete the "Easter Eggs" mission at the Utopia HQ.
Alternatively, players can bypass the mission for 1Mu/50u, unlocking the Easter Bunny gene without having to pay and/or unlock all the requirements for the mission.
Where to Find the Eggs
Edit
The reward for this mission is the Easter Bunny gene.
Ad blocker interference detected!
Wikia is a free-to-use site that makes money from advertising. We have a modified experience for viewers using ad blockers

Wikia is not accessible if you've made further modifications. Remove the custom ad blocker rule(s) and the page will load as expected.