"Mutopium is a unique resource created by mutating the organic nature of utopium. It is extremely valuable and can only be harvested (easily) from visiting other mayor's towns, or by completing extremely difficult missions."

Mutopium is unlocked when building the altar. Mutopium can be used for several things and has high value. A single Mutopium can be bought at the shop for 25u. Mutopium can also be traded once unlocked. At the Pet Store a new option is unlocked giving you the ability to exchange Mutopium.
Gained from:
Edit
The shop

25 Utopium can be exchanged for 1 Mutopium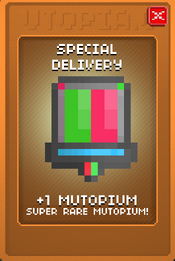 Friend visits

When collecting gifts from friends you could randomly be awarded 1 mu.
Friend Trades

You can exchange animals and Mutopium for one another.
Used for:
Edit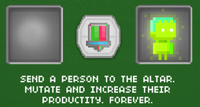 Increasing productivity at the Altar*

Mutate clone from 1cps to 2cps is 1Mu
Mutate clone from 2cps to 3cps is 2Mu

* An alternate method For getting gold professions is to keep splicing the same clone over and over. Eventually you'll get the collector's edition. If you calculate that 2 Mutopium (that is needed to gain a gold profession) can be bought for 50u and it takes 1u to send a clone back to the mother ship, you can try for at least 50 times.
** You are sometimes given the option to buyout a mission using Mutopium. This way you can complete the mission without meeting the necessary requirements.
Ad blocker interference detected!
Wikia is a free-to-use site that makes money from advertising. We have a modified experience for viewers using ad blockers

Wikia is not accessible if you've made further modifications. Remove the custom ad blocker rule(s) and the page will load as expected.